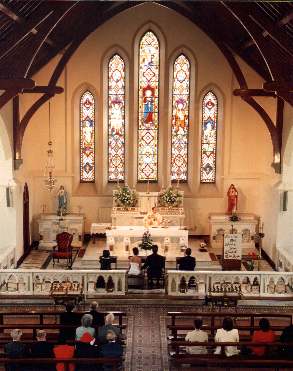 "Marry in May and Rue the Day..." If you are born Irish then you are automatically born superstitious. It seems the Irish have superstitions regarding every single facet of life so of course they would have certain "rules" regarding getting married.

Hundreds of years ago in Ireland, as well as in many other countries, marriages were arranged. Your spouse was handpicked for you, oftimes either before you were born or when you were an infant, and usually picked so as to increase the wealth and/or property of both families involved. My marriage was not necessarily arranged prior to my birth, but my fiancee kept in the Irish tradition by asking my father for my hand in marriage before I knew he was going to ask me. They met and discussed the plans and only later was I to find out.

After I accepted his proposal, the first thing necessary was to pick out a church over there and contact the Parish Priest at least three months in advance. It seems this is a law in Ireland now, I guess to stop fast, rushed marriages that will end up in divorce or separation in just a few short months. And, being Catholic, we then began pre-marriage counseling to clarify the fact that my future husband and I did indeed want to take this huge step in our lives. We had to dig out our baptismal, first communion, and confirmation records and have our local Parish priest send all these documents to the priest in Ireland to do what ever legal things he needed to do.

Our next step in planning our Irish wedding was to do such things as reserve & purchase our plane tickets, buy our wedding clothing (my dress and his tux/suit) and get our wedding rings. These were pretty simple & straightforward things to handle, but I would like to say a word about our wedding bands. We decided to do something really special and buy Celtic wedding bands so that everyone who meets us would know our Celtic heritage. They made our day really special and people comment on them so often. It reminds us often about our Irish wedding & was a very special touch that I would recommend to all.

So that handled matters on this side of the ocean. Then you must be sure that the following things are reserved on the other side:
Photographer
Menu/ Location for Reception
Entertainment for Reception
Cake
Wedding Transportation/ Car
Meeting with the Parish Priest to review your ceremony
I had an advantage because my mom & dad live over there and were able to get most of these things lined up for me. So I arrived an extra few days before the wedding to tie up loose ends & make sure everything would go perfect. And by the time my husband arrived, the night before the wedding, the only thing left to do was meet with the Parish priest to go over the ceremony.
We had been at the pub most of the afternoon meeting with old friends who of course had to buy us pint after pint to toast our future together. So, before we knew it, it was 9 pm and we had to go down to the parish rectory to rehearse. Both of us were slightly nervous because of the fact that we were fairly smashed, but the first words out of The Father's mouth were "Welcome home Michael, will ye share a whiskey with me?" Needless to say, the ice was broken and we proceeded on merrily. And after that we headed back to the pub, me for my "Hen Party" and my future husband for his. We had a long, fun night and stumbled home at the wee hours.
The next morning, of course I awoke "bright eyed and bushy tailed" and ready for a beautiful day. The photographer arrived about an hour before the mass and we proceeded to take picture after picture after picture…
My father and I rode to the church in a '47 Rolls-Bentley, our quaint chauffer-driven wedding car. The Priest was shocked and I believe a little peeved that we arrived when we did. It seems that the bride is always supposed to be late!! Oh well…
We proceeded on with the ceremony and it went much as an American ceremony would, with just a few unique parts. When we exchanged vows & rings, my husband took my left hand, touched my thumb with the ring and said, "In the name of the Father". Then he touched my index finger next and said, "In the name of the Son." Then he touched my middle finger and said, "And the Holy Spirit" and at "Amen" he placed the ring on my ring finger. I did the same procedure to him.
Then the Priest handed my husband an ancient polished coin. He then handed it to me and said these words, "I give you this gold and silver, tokens of all I possess." It was a beautiful touch that I had never heard of before.
After the ceremony, we proceeded outside for more pictures & merriment. Rice was thrown with sweet abandon & we really whooped it up! Then my husband and I got in the wedding car and proceeded to the reception, a nice 20-mile drive away through the gorgeous countryside of Westmeath. As we passed through each town everyone waved and honked at us to help celebrate our happy day.
At the reception of course we had MORE pictures and then a really nice meal. Then the real fun began with our entertainment, a one-man band who played lots of traditional Irish music. I think my favorite part was when each member of my family got up, one at a time, gave us a toast and then either sang a special song or recited a special poem. It was the perfect ending to a perfect day!
My Irish wedding was so enjoyable and special. I went back to my Irish roots and celebrated my heritage. If you have the chance, do it! You will truly cherish it "all the days of your lives..."